Singers looking for information about Orlando Sings Symphonic Chorus auditions go here —> OSSC Audition Info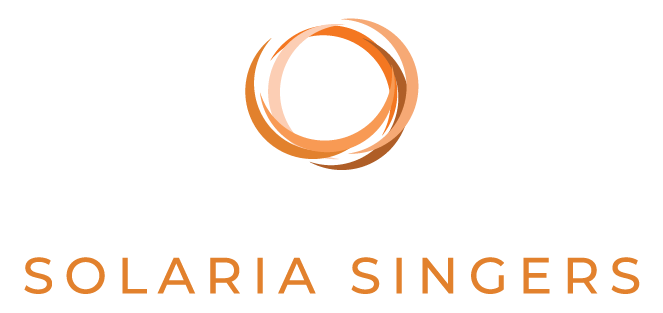 Solaria, a new fully professional choral ensemble based in Orlando, seeks a diverse group of professional singers with a passion for ensemble singing. Interested singers are welcome and encouraged to submit their materials throughout the year.
Solaria operates with a "core" group of up to 24 singers, from whom the rosters of each project are drawn. We will also maintain a list of substitutes for when needs arise or when a larger ensemble is required. The number of contracts offered this season will depend on available funding. Members of Solaria may be asked to re-audition every year.
Solaria musicians receive a flat fee for each concert series based on the activities and rehearsal time required. A travel stipend is also included for those traveling for each project. Contracts with specific dates and times will be sent to singers selected for each project.
Rehearsals will take place in the days/weeks leading up to a performance. Due to extremely limited rehearsal time, it is expected that all members of Solaria will be able to perform their parts at the first rehearsal for a given project.
QUALIFICATIONS
Propensity to be a Positive, Kind, and Supportive Colleague
Bachelors Degree in Music or Musical Theater; or Equivalent Professional Experience
Strong Sight Reading and Musicianship Skills
Previous Professional Vocal Solo and Ensemble Experience Preferred
Locally Based (within 150 miles of Orlando) Preferred. Though we prioritize hiring singers who are based locally, we may consider applicants based outside of the area as needed.
SOLARIA AUDITION/ APPLICATION MATERIALS NEEDED
Choral CV/Resume
Headshot
Contact information for 3 professional references (including at least 1 choral reference)
Link to a recording to demonstrate vocal range (e.g. scales sung at a gentle yet focused mf, demonstrating a level of vibrato that you deem appropriate for small ensemble singing). An audio recording created with the Voice Memos app on your smartphone works well. Please upload to Soundcloud, Google Drive, Dropbox, or similar and share the link. Please make sure your share settings will allow anyone with the link to access your recording.
Up to 3 Performance Links: Soundcloud, YouTube, or other Examples of Work. Solo performances will be most helpful if they demonstrate your ability to sing with superb intonation and in contrasting styles and/or show a range of vocal colors. Attention to text and artistic communication will be prized over a performance that primarily features heaviness required to sing over an orchestra. Please make sure your share settings will allow anyone with the link to access your recording.
Link to professional website and/or professional social media pages (if applicable)
Additional Information: please use this space to share anything else you would like us to know about you that is not included in the above materials.
If needed to help make final decisions on personnel, we may schedule call backs for the purpose of assessing sight reading skill.
ADDITIONAL PAID OPPORTUNITY— ORLANDO SINGS SYMPHONIC CHORUS PROFESSIONAL CORE
Every singer who auditions for Solaria may also be considered for one of our paid "professional core" positions with the Orlando Sings Symphonic Chorus, which will rehearse in downtown Orlando every Tuesday evening 7-9:15 pm. You can indicate your interest for one of these spots on the audition/ application form. Even if you do not win one of the limited professional core spots, we would still be thrilled for you to sing as a regular member of the OSSC. Members of Solaria who choose to sing as a regular member of the Symphonic Chorus will have their Registration Fee waived.
Our current COVID Policy can be found here.
Questions related to auditions may be directed via email to info@orlandosings.org.