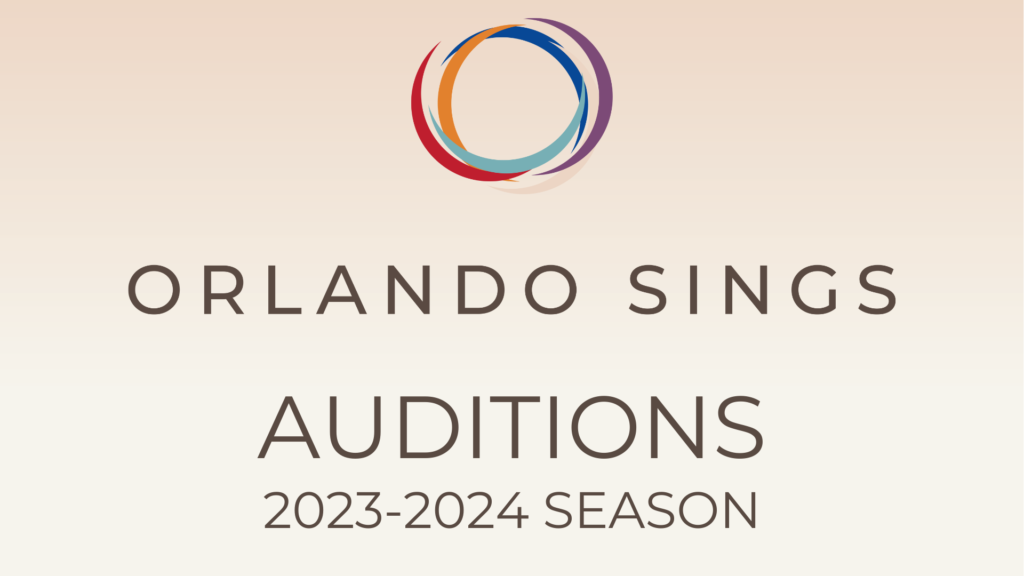 AUDITION INFORMATION
ORLANDO SINGS SYMPHONIC CHORUS & ORLANDO SINGS HARMONIA UNIFIED AUDITIONS FOR 2023-2024 SEASON
2023 AUDITION DATES
June 13, 16, 17, 27, 29
August 1 & 3
First Rehearsal: Tuesday August 8, 2023
Entering our third season, Orlando Sings seeks a diverse group of choral singers for the 2023-2024 Season. Any adult looking for an amazing opportunity to make music, grow, and connect with a welcoming, engaging, and inspiring choral community is encouraged to audition.

HARMONIA is an auditioned SSAA choir aligned with the Orlando Sings values of artistry, joy, and professionalism. Led by rising star conductor Sandra Shafer, Harmonia is the first auditioned adult SSAA choir in the State of Florida.

The ORLANDO SINGS SYMPHONIC CHORUS specializes in the performance of large-scale choral works. We sing music inspired by the many cultures of our community, classical masterpieces, and thought-provoking works (and world premieres) by the most brilliant composers of today. This dynamic group of dedicated singers performs in collaboration with chamber or symphony orchestras each concert season.

Both Harmonia and the Orlando Sings Symphonic Chorus are comprised of community members from diverse backgrounds and careers, students, and professional musicians. Professions represented among our singers include careers in music, business, education, engineering, health, hospitality, marketing, retail, service, and tourism, to name a few.
WHO ARE WE LOOKING FOR?
Sopranos, Altos, Tenors, and Basses
Choral enthusiasts— those who have continued singing in choirs throughout their life.
People who sang in high school and/ or college and miss it— you need to get singing back into your life!
Members of any of our fine church or community choirs in the area (hopefully to join in addition to your current choir, not to replace)
Graduates from any of the phenomenal high school chorus programs in our area— y'all will thrive in these choirs!
Anyone with previous piano, band, or orchestra ensemble experience interested in experiencing the joys of choral music.
Choral professionals, including music educators– come "sharpen your saw" as a choral director, sing amazing repertoire, and just enjoy!
Successful auditionees must confidently match pitch.
Successful auditionees will demonstrate fundamental music reading ability. If it has been a while, don't worry— we will help you dust off those skills!
BENEFITS OF SINGING IN THE ORLANDO SINGS SYMPHONIC CHORUS and/ or HARMONIA SSAA CHORUS
Weekly time to stretch, breathe deeply, be in that amazing choral sound, and renew your spirit.
FREE weekly classes.
Perform with an outstanding choir and professional instrumentalists.
Meet and interact with nationally and internationally known composers-in-residence.
Opportunities for international travel on future choir tours.
Discounted tickets for Orlando Sings concerts and events.
The goosebumps, chills, and extraordinary mountaintop musical moments.
Being part of a wonderful community of lovely choir friends!
SCHEDULE AND FINANCIAL COMMITMENT
To experience the good feelings and mountaintop music-making that comes with being a part of a national-caliber choir, it is necessary for our choir members to commit to our rehearsal schedule.
To make it as easy as possible for those with busy schedules to join, we usually rehearse once a week, on Tuesdays, August through May, not including holiday weeks or spring break. Additional rehearsals (e.g. concert dress rehearsals and orchestra rehearsals) will be scheduled depending on the season's concert schedule.
HARMONIA SCHEDULE
Tuesdays 5:45-7:00 PM
SYMPHONIC CHORUS SCHEDULE
Tuesdays 7:00-9:00 pm
NEW REHEARSAL LOCATION
All Saints Church of Winter Park (338 E. Lyman Avenue, Winter Park, Florida 32789)
There is no cost to audition.
All singers selected for Harmonia or Symphonic Chorus must acquire the Orlando Sings concert attire (concert black) and pay a registration fee each year ($120), which goes towards the expenses of running the choir, including the cost of sheet music. Singers keep their music for use in future seasons. Scholarships are available for those who cannot afford the fee. Orlando Sings is committed to equity, access, and inclusion, and no singer will be turned away if the registration fee creates a financial hardship.
AUDITION INFORMATION
We are excited to meet you and hear you! Though it may seem like there is a lot to the audition, we want to give you as many opportunities as possible to show the ways you would contribute to Harmonia or the Orlando Sings Symphonic Chorus. A successful chorus is a wonderful mix of strengths, and we want you to be able to share yours with us. Please note that we will not be able to accept everyone who auditions for Orlando Sings Harmonia or the Orlando Sings Symphonic Chorus. However, we will be happy to provide feedback to everyone who auditions. Once selected, current members must re-audition every two years.
Auditions will be held in the Winderweedle Building of All Saints Church Winter Park (338 E. Lyman Avenue, Winter Park, Florida 32789). When you arrive at your audition, you will be greeted by one of our volunteers, checked in, and then wait for your turn to enter the audition room. You can expect for your audition to last about 10 minutes. Orlando Sings artistic staff and an accompanist will be present to guide you through the audition requirements:
My Country 'Tis of Thee— You will be asked to sing the melody using music provided at the "Sheet Music Needed for Audition" link. The panel is listening for tone quality, vowel shapes, resonance, freedom, diction, intonation, pitch/rhythm accuracy, control, phrasing, and expressive singing. This does not need to be memorized.
Vocalizing— You will be guided through warm-ups to listen to your range, tone quality, and intonation. No advance preparation is needed for this part of the audition.
Rhythm Reading— You will receive a short rhythm-reading exercise upon arrival at the audition space and be asked to perform it for the panel. You are welcome to use a rhythm syllable system (Ta Ti-Ti, Takadimi, etc.) or count-singing if you wish, but it is not required. You will be given time to study the exercise before singing it aloud.
Prepared Excerpt— Before the audition, learn your part to a Bach chorale in English and sing it. Our pianist will play with you. The panel is listening for tone quality, vowel shapes, resonance, freedom, diction, intonation, etc.
Questions related to auditions may be directed via email to info@orlandosings.org.
PROFESSIONAL CORE
We offer a limited number of paid singing positions in the Orlando Sings Symphonic Chorus each season. These paid singers make up our "professional core." Our professional core members serve as musical leaders of the ensemble, are required to prepare their music in advance, serve as advisors to the Conductor, and provide support to all members of the Chorus.
Anyone can sign up for a professional core audition. Those who choose to audition for the professional core will also be automatically considered for regular membership in the Symphonic Chorus. All professional core members must re-audition every year. Professional core auditions require additional preparation.
PROFESSIONAL CORE AUDITION
Those choosing to audition for the Professional Core will complete the audition requirements above, AND…
Perform 2 minutes of a prepared solo. Please bring two copies of your solo, one in a format that is pianist friendly (loose pages should be hole-punched and in a 3-ring binder).
Melodic Sight Reading. You will receive a short melodic exercise upon arrival at the audition space and be asked to perform it for the panel. You are welcome to use solfege syllables (or numbers, etc.) if you wish, but it is not required. You will be given time to study the exercise before singing it aloud.
Foreign Language Pronunciation. You will be given a Latin text commonly sung by choirs and asked to read an excerpt.
Pro Core Callbacks. If chosen as a finalist for a Professional Core position, you may be asked to return for a callback audition.